More than 14 Years of experience Trainer
Has conducted more than 80 Corporate training
Trained 10,000+ Students so far
Call us :
+91-8802000175
70+ Hours Course Duration Free Demo Class Available
100% Job Oriented Training Small Batches- Max 10 Participants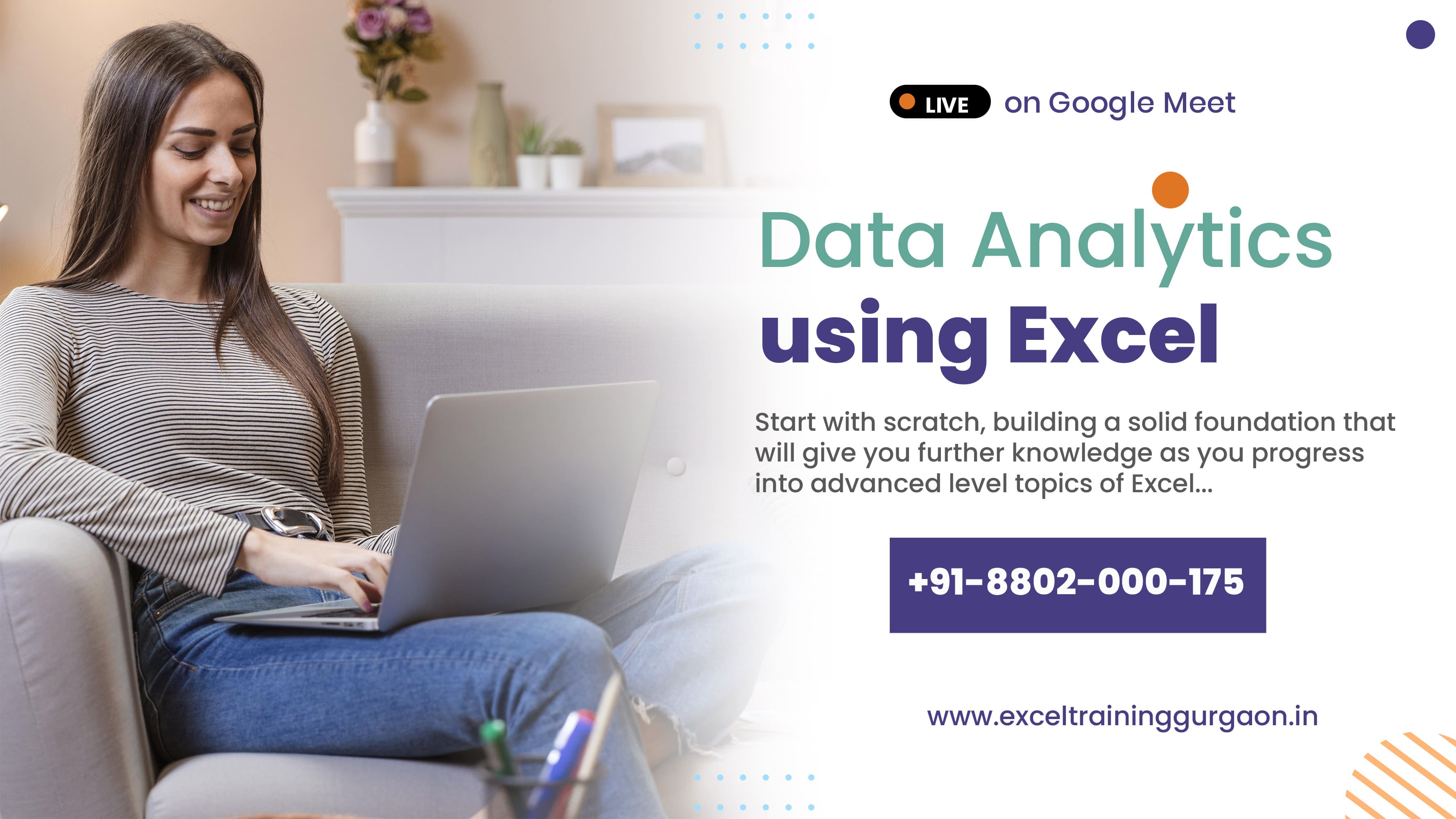 Course Highlights:

Comprehensive Curriculum: Our course begins with a solid foundation in basic Excel concepts before delving into the intricacies of intermediate and advanced functionalities. Moreover, we'll guide you through the fascinating realm of VBA macros to automate and streamline your tasks.
Flexible Online | Offline Sessions: We understand the demands of modern life, which is why we offer online sessions to cater to your convenience. Now you can learn and grow without being tied to a physical location.
Small Batch Advantage: To ensure personalized attention and interactive learning, we maintain a limited batch size of 6 to 8 participants. This deliberate choice allows our experienced trainers to cater to individual expectations and requirements effectively.
Diverse Session Timings: Our weekday sessions are available both in the morning and evening, accommodating various schedules. Additionally, we provide weekend sessions for those seeking more flexibility.
Hands-on Assignments: Learning by doing is at the core of our approach. With assignments accompanying each topic, you'll have the chance to apply your newfound knowledge to real-world scenarios. Raw data and practice sheets will be your tools for honing your skills.
Personalized Support: Have questions? Need clarification? Our trainers are dedicated to addressing your queries and ensuring your learning journey is smooth. Your success is our priority.
Course Completion Certification: Once you've successfully navigated the course, you'll receive a certification recognizing your commitment and achievement. It's a testament to your acquired skills and knowledge.
Path to Placement: As a corporate training agency, we go beyond instruction. We offer placement assistance by sharing your CV with reputable companies. Your potential employers are just as eager to discover skilled professionals as you are to launch your career.
Advance Excel & VBA Training Overview
Overview of Analytics - Whats is Data Analytics, Data Modeling and Data Mining
Overview of excel basics, worksheet optimization, and data cleaning in excel
How to make your report effective (Data visualization) using Custom and Conditional formatting
Aggregate functions (Sum, 3-D functions, average, count, countifs, sumifs etc)
Date and time functions( EOMonth, DateDiff, NetworkDays, Workdays, Weeknum, Today, Month, Year etc)
Summarize data using Pivot table and charts
Data cleaning and validations in Excel
Basic and Advanced Filters on various scenarios
Lookups - VLookup, Reverse Lookup, Index Match, Indirect and dependency list
Logical Functions - Super logical If, nested if, and, or functions, how to combine logical functions)
Various Text Functions - How to use find, substitute, len, trim,exact, left, right, mid, Upper and Lower functions
What if Analysis (Goal Seek, Data Tables, EMI Calculation, Solver Tool)
Dashboard Designing in Excel
Arrays Functions (CSE Functions in Excel)
Data Validations tools
Data forecasting tools
VBA Macros - (How to record macros, UDF, Variable, control flow, etc)
VBA Macros - If else Statements
VBA Macros - With statements
VBA Macros - For, Foreach and Do until Loop
VBA Macros - Fiters and Reporting
VBA Macros - How to automate mail functions in VBA
VBA Macros - How to create mergers
EXCEL INTRODUCTION
An overview of the screen, navigation and basic spreadsheet concepts
Various selection techniques
Shortcut Keys
CUSTOMIZING EXCEL
Customizing the Ribbon
Using and Customizing AutoCorrect
Changing Excel's Default Options
USING BASIC FUNCTIONS
Using Functions - Sum, Average, Max,Min, Count, Counta
Absolute, Mixed and Relative Referencing
FORMATTING AND PROOFING
Formatting Cells with Number formats, Font formats, Alignment, Borders, etc
Basic conditional formatting
MATHEMATICAL FUNCTIONS
SumIf, SumIfs CountIf, CountIfs AverageIf, AverageIfs
PROTECTING EXCEL
File Level Protection
Workbook, Worksheet Protection
TEXT FUNCTIONS
Upper, Lower, Proper Functions
Left, Mid, Right Functions
Trim, Len, Exact Functions
Concatenate Function
Find, Substitute Functions
DATE AND TIME FUNCTIONS
Today, Now Day, Month, Year Date Functions
DateDif, DateAdd EOMonth, Weekday Functions
ADVANCED PASTE SPECIAL TECHNIQUES
Paste Formulas
Paste Formats and Images
Paste Validations
Transpose Tables
NEW IN EXCEL 2013 / 2016 & Excel 365
New Charts -Tree map & Waterfall Sunburst, Box and whisker Charts
Combo Charts – Secondary Axis
Adding Slicers Tool in Pivot & Tables
Using Power Map and Power View
Forecast Sheet Sparklines -Line, Column & Win/ Loss
Using 3-D Map New Controls in Pivot Table - Field, Items and Sets
Various Time Lines in Pivot Table
Auto complete a data range and list
Quick Analysis Tool
Smart Lookup and manage Store
SORTING AND FILTERING
Filtering on Text, Numbers & Colors
Sorting Options Advanced Filters on 15-20 different criteria(s) EXCEL,
ADVANCED EXCEL
WHAT IF ANALYSIS
Goal Seek Scenario Analysis Data Tables (PMT Function)
Solver Tool
LOGICAL FUNCTIONS
If Function How to Fix Errors - iferror
Nested If Complex if and or functions
DATA VALIDATION
Number, Date & Time Validation
Text and List Validation
Custom validations based on formula for a cell
Dynamic Dropdown List Creation using Data Validation – Dependency List
LOOKUP FUNCTIONS
Vlookup / HLookup Index and Match
Creating Smooth User Interface Using Lookup
Nested VLookup Reverse Lookup using Choose Function
Worksheet linking using Indirect
Vlookup with Helper Column
PIVOT TABLES
Creating Simple Pivot Tables Basic and Advanced Value Field Setting
Classic Pivot table Grouping based on numbers and Dates
Calculated Field & Calculated Items
ARRAYS FUNCTIONS
What are the Array Formulas, Use of the Array Formulas?
Basic Examples of Arrays (Using ctrl+shift+enter).
Array with if, len and mid functions formulas.
Array with Lookup functions.
Advanced Use of formulas with Array.
CHARTS AND SLICERS
Various Charts i.e. Bar Charts / Pie Charts / Line Charts
Using SLICERS, Filter data with Slicers
Manage Primary and Secondary Axis
EXCEL DASHBOARD
Planning a Dashboard
Adding Tables and Charts to Dashboard
Adding Dynamic Contents to Dashboard
VBA Macro INTRODUCTION TO VBA
What Is VBA? What Can You Do with VBA?
Recording a Macro Procedure and functions in
VBA VARIABLES IN VBA
What is Variables? Using Non-Declared Variables
Variable Data Types Using Const variables MESSAGEBOX AND INPUTBOX FUNCTIONS
Customizing Msgboxes and Inputbox Reading Cell Values into Messages
Various Button Groups in VBA IF AND SELECT STATEMENTS
Simple If Statements The Elseif Statements
Defining select case statements
LOOPING IN VBA
Introduction to Loops and its Types
The Basic Do and For Loop Exiting from a Loop
Advanced Loop Examples
MAIL FUNCTIONS –
VBA Using Outlook Namespace Send automated mail
Outlook Configurations
MAPI WORKSHEET / WORKBOOK OPERATIONS
Merge Worksheets using Macro
Merge multiple excel files into one sheet 6
Split worksheets using VBA filters
Worksheet copiers